PARIS 17 February 2017 (VCHR) – According to a report published by the Ministry of Public Security in Vietnam this month, Vietnam executed a total of 429 prisoners between August 2013 and June 2016. With this figure, Vietnam now ranks 5th on a list of the world's worst executioners following China, Iran, Pakistan, Saudi Arabia, and topping the United States, according to figures established by Amnesty International in 2015.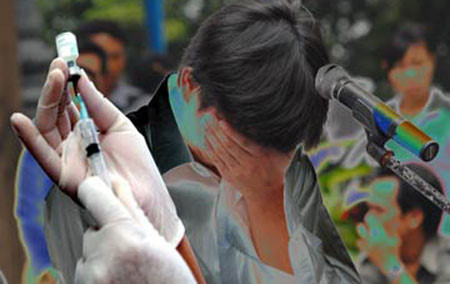 "These figures are devastating", said VCHR President Võ Văn Ái. "The use of the death penalty is especially disturbing because of the lack of due process of law in Vietnam's one-party state. People can be killed by the state in a country where due process of law is not upheld".
The report (05/BC-BCA-C81), dated 4 January 2017, gave an overview of the use of the death penalty in Vietnam over the past five years (2011-2016), since the Law on Execution of Criminal Judgements and the Decree on Execution by Lethal Injection were adopted by the National Assembly (see VCHR Report on the Death Penalty in Vietnam). To cope with the large number of executions, it said, Vietnam was building five new execution compounds to supplement the five currently operational in Hanoi, Ho Chi Minh City, Nghe An, Son La and Dak Lak, and Security officials are being rapidly trained to administer lethal injections.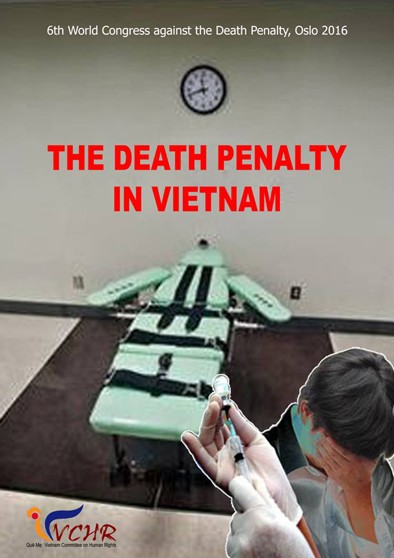 The report gives a rare insight into the status of death sentences and executions in Vietnam's communist state and the situation of prisoners on death row. Such information has been unavailable since 2004, when Vietnam classed statistics on the death penalty as "state secrets". According to the report, 681 prisoners were awaiting execution in June 2016, 80 were granted stay of execution and retrial because of wrongful convictions, and 36 prisoners died on death row in the five year period.
Vietnam adopted the use of lethal injections to replace execution by firing squad in 2010 to make the death penalty "more humane". After the law was adopted, Vietnam continued to impose death sentences, but could not apply them because of an EU ban on exporting lethal substances. By 2013, over 700 condemned prisoners were on death row in inhumane conditions. Executions resumed in 2013 after Vietnam passed legislation authorising the use of "domestic poisons". The effects of these substances had never been tested, and it took over two hours for the first prisoner, Nguyễn Anh Tuấn, to die in August 2013.
The high number of deaths reported by the Ministry of Public Security report confirms media concerns about the growing suicide rate on Vietnam's death row, which is the 12th largest in the world. Prisoners are not informed of their execution in advance, and many prefer to die rather than live with the terror of waiting for an unknkown execution day, e.g. Nguyễn Tiến Công, 35, who committed suicide on death row in June 2013 in Haiphong. The report also noted that many prisons do not have special quarters for prisoners condemned to death, which causes "complications in the management of prisoners".
According to the report, despite two reforms in the Criminal Code in 1999 and 2009 which reduced the number of crimes punishable by death from 44 to 22, the number of death sentences pronounced each year has not diminished, thus indicating the failure of capital punishment as a deterrent to crime.
Vietnam's amended Criminal Code, adopted in November 2015 but not yet enforced because of extensive errors in the text, further reduces the number of crimes punishable by death to 18. However, disregarding pressing demands by the international community, Vietnam has not removed the death penalty for vaguely-worded "national security" offences in the Criminal Code which are frequently invoked to detain political and religious dissidents. On the contrary, one new crime was added, making a current total of six national security crimes punishable by death in Vietnam.