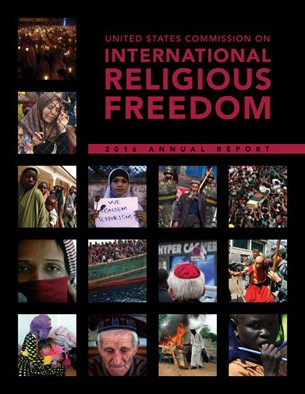 PARIS, 2 May 2016 (VCHR) – For the sixteenth consecutive year, since 2001, Vietnam is on a blacklist of countries singled out by the US Commission on International Religious Freedom (USCIRF) for "systematic, ongoing and egregious violations" of freedom of religion or belief. USCIRF recommends that Vietnam be designated by the US administration as a "Country of Particular Concern" (CPC).
In its 2016 Annual Report on International Religious Freedom released today, USCIRF recommends 17 countries for CPC designation in 2016. Ten are currently on the US State Department's list: Burma, China, Eritrea, Iran, North Korea, Saudi Arabia, Sudan, Tajikistan, Turkmenistan and Uzbekistan. USCIRF recommends maintaining these ten, and adding seven other countries in which religious freedom is seriously abused: Central African Republic, Egypt, Iraq, Nigeria, Pakistan, Syria and Vietnam.
The US State Department designated Vietnam as a CPC in 2004 and 2005, but removed it in 2006 prior to Vietnam's admission to the World Trade Organization. In August 2015, a delegation of USCIRF Commissioners visited Vietnam to assess the situation of freedom of religion or belief.
 "As the USCIRF's report aptly reveals, religious freedom in Vietnam is a question of political control: state-sponsored religions have more freedom than independent ones, registered groups face less harassment that non-registered groups" said Võ Văn Ái, President of the Vietnam Committee on Human Rights (VCHR). "Clearly, the government and Communist Party are not seeking to promote freedom of religion or belief, but to consolidate State control of religions in Vietnam."
According to the USCIRF's findings, whereas significant progress has been achieved for some groups in certain areas, "on the other hand, the government's continuing heavy-handed management of religion continues to lead not only to restrictions and discrimination, but also to individuals being outright harassed, detained, and targeted with physical violence".
Citing abuses against communities including the independent Unified Buddhist Church of Vietnam (UBCV), Khmer-Krom Buddhists, Cao Dai, Catholics, Hmong Protestants, Montagnards, Mennonites, Hoa Hao, Falun Gong practitioners and Dương Văn Minh followers, the USCIRF noted that, in particular, "religious organizations that choose not to seek government recognition face greater risk of abuse by government authorities".
The report observes that certain abuses are committed by provincial and local officials because they do not understand government religious policies, but that "central government permits inconsistent and contradictory implementation" at a local level. Based on their meetings during the August 2015 visit, USCIRF concludes that there is "some degree of central government complicity in, or indifference to, provincial-level abuses".
According to the report, whereas Buddhism is practiced by the majority of Vietnam's 94 million population, "those operating independent from the state-sanctioned Vietnamese Buddhist Sangha often are government targets. This includes the leadership of the Unified Buddhist Church of Vietnam (UBCV), such as Thich Quang Do, who remains under house arrest, and Buddhist Youth Movement leader Le Cong Cau. In April 2015, Le Cong Cau was detained and questioned for three days, and later in the year he was prevented several times from traveling to meet visiting government officials from the United States and Germany." —
Created under the 1998 International Religious Freedom Act, USCIRF is an independent, bipartisan government advisory body that monitors religious freedom worldwide and makes policy recommendations to the US President, Secretary of State, and Congress. Under the International Religious Freedom Act, the U.S. may impose a series of measures, ranging from travel restrictions to economic sanctions, on countries designated as CPCs.