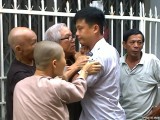 PARIS, 29 April 2015 (VCHR). The Vietnam Committee on Human Rights (VCHR) has received an urgent letter from Le Cong Cau, head of the Buddhist Youth Movement (BYM) in Vietnam which gives details of the ordeal he suffered during an intensive 3-day "working session" with Security Police in Hue from 22 to 24 April 2015. This is the second incident of Police harassment against Le Cong Cau within the past month (see IBIB Press Release, 20 April). Le Cong Cau, who is also Secretary-general of the Unified Buddhist Church of Vietnam (UBCV), called on VCHR to raise his case with the UN Human Rights Council and particularly the UN Special Rapporteur on Freedom of Religion or Belief, Dr Heiner Bielefeldt, who met Le Cong Cau during his visit to Vietnam in July 2014.
In his letter, Le Cong Cau said that the interrogation was prompted by his visit to UBCV Patriarch Thich Quang Do in Saigon (Ho Chi Minh City) on 18-19 April 2015. When he returned to Hue, Police came to his home and asked what he had discussed with the UBCV leader and what orders he had received. Although Le Cong Cau replied that it was a simple courtesy visit to check on the Patriarch's health, he later received a summons to report to the Truong An district Police station (Hue) on 22 April.
During the first day's intensive "working session" (làm việc), Police produced 17 letters and documents issued by the UBCV, and accused him of writing and disseminating them via the Internet. They aggressively demanded information on the UBCV's activities, especially since the death of UBCV Deputy Head, Venerable Thich Nhu Dat, on 26 February 2015. They pressed him to reveal details about Venerable Thich Thanh Quang in Danang, the new Acting UBCV Deputy Head; the composition of the UBCV leadership and list of all those in charge of the UBCV's 20 Provincial Committees; the activities of the Buddhist Youth Movement and even those of the UBCV overseas. Le Cong Cau replied that he had nothing to hide, but these were the UBCV's internal affairs. Although it was not recognized by the present government, the UBCV had a 2,000-year history in Vietnam, he said. The UBCV and its Buddhist Youth Movement continued their activities de facto, despite continuous harassments and persecution. Police replied that the UBCV is an illegal organization. Only the (State-sponsored) Vietnam Buddhist Sangha is recognised by the state.
The next day, Police bluntly threatened Le Cong Cau. They said they had a complete file on him, and could arrest and prosecute him any time. He had repeatedly ignored their orders to renounce the UBCV, they said, and his support of the UBCV constituted anti-State, anti-Party activities. Moreover, by denouncing the Vietnam Buddhist Sangha, he was guilty of "creating divisions" between religious followers, which is carries punishment of up to 15 years in prison under Article 87 of the Vietnamese Criminal Code. Le Cong Cau argued that his membership of the UBCV was not anti-state because the government had never issued any order to formally ban the organization. The Police replied: "We don't need an order. The UBCV is illegal and that's that".
During the third day, he was interrogated by a higher-level security official, Mr Thoan, Deputy Head of Police Department PA88 in charge of religions. He confirmed the charges laid against Le Cong Cau in the two previous sessions, and produced another document stating that in 2014, whilst the Communist Party canvassed public opinion on the new Constitution, Le Cong Cau called for the abolition of Article 4 on the Party's political monopoly. This proved that Le Cong Cau was engaged in "anti-Party" activities, he said. Le Cong Cau declared that by calling for pluralism he was simply exercising his constitutional right to freedom of expression.
Thoan concluded the 3-day session with a threat: "Thich Thanh Quang, you and all the rest, with just one squeeze I can put a stop to your activities once and for all".
The plight of Le Cong Cau reflects the dangers and permanent insecurity faced by religious followers in Vietnam, especially those belonging to independent, "non-recognized" bodies such as the UBCV. The UN Special Rapporteur on Freedom of Religion or Belier, Dr.Heiner Bielefeldt, emphasized this fact in the report on his visit to Vietnam in July 2014, noting that the autonomy and activities of non-recognized groups "remain restricted and unsafe, with the rights to freedom of religion or belief of such communities grossly violated in the face of constant surveillance, intimidation, harassment and persecution".