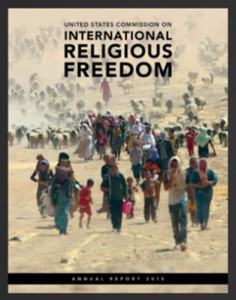 PARIS, 30 April 2015 (Vietnam Committee) – In its 2015 Annual Report on International Religious Freedom issued today, the US Commission on International Religious Freedom (USCIRF) placed Vietnam on a list of 17 countries, recommending that they be designated as "Countries of Particular Concern" (CPC) by the US administration for "systematic, ongoing and egregious violations" of religious freedom. The list includes Burma, China, Eritrea, Iran, North Korea, Saudi Arabia, Sudan, Turkmenistan, Uzbekistan, Central African Republic, Egypt, Iraq, Nigeria, Pakistan, Syria, Tajikistan, and Vietnam.
USCIRF has placed Vietnam on this blacklist every year since 2001. In 2004 and 2005, the State Department designated Vietnam as a CPC, but removed it in 2006 prior to Vietnam's admission to the World Trade Organization. Created under the 1998 International Religious Freedom Act, USCIRF is an independent, bipartisan government advisory body that monitors religious freedom worldwide and makes policy recommendations to the US President, Secretary of State, and Congress. Under the 1998 International Religious Freedom Act, the U.S. may impose a series of measures, ranging from travel restrictions to economic sanctions, on countries designated as CPCs.
"For Vietnam, the USCIRF's report comes out on a highly symbolic date – 30th April 2015, the 40th Anniversary of the end of the Vietnam War which brought the country under communist rule" said Vo Van Ai, President of the Vietnam Committee on Human Rights (VCHR). "On this "Black April" day, the USCIRF's report paints a sombre but highly realistic picture of the plight of religious followers in Vietnam."
According to the USCIRF's findings, "the Vietnamese government continues to control all religious activities through law and administrative oversight, restrict severely independent religious practice, and repress individuals and religious groups it views as challenging its authority". It cites widespread abuses over the past year of independent Buddhists of the Unified Buddhist Church of Vietnam (UBCV), Khmer-Krom Buddhists, Cao Dai, Catholics, Hmong Protestants, Montagnards, Mennonites, and Hoa Hao. The report esteems that "at least 100-200 prisoners of conscience are detained in Vietnam, some for their religious activity or their religious freedom activity".
Detailing violations against the UBCV, the report cites the long-term detention of UBCV leader Thích Quảng Độ, the harassment of monks and laypersons at Long Quang Pagoda in Hue in January 2014 and the frequent Police harassments of Buddhist youth leader Lê Công Cầu.