GENEVA, March 11, 2015 (Vietnam Committee) – Speaking at the 28th Session of the United Nations Human Rights Council in Geneva on 10-11 March, the UN Special Rapporteur on Freedom of Religion or Belief Heiner Bielefeldt presented his report on his mission to Vietnam from 21 – 31 July 2014. Whilst observing that "religious life and religious diversity in Vietnam are a reality in Vietnam today", Mr. Bielefeldt identified many "serious problems", and declared that "the scope of freedom of religion and belief remains extremely limited and unsafe" in Vietnam.
The UN expert expressed particular concern about the situation of Independent religious and belief communities – i.e. those unrecognized by the state. The autonomy and activities "remain restricted and unsafe, with the rights to freedom of religion or belief of such communities grossly violated in the face of constant surveillance, intimidation, harassment and persecution". He stressed that the conditions of independent and unregistered religious communities was a "litmus test for the development of freedom of religion of belief in Vietnam".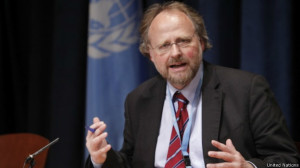 During his visit to Vietnam in July 2014, Mr. Bielefeldt was obliged to cut short visits to An Giang, Gia Lai and Kontum provinces from because of "interruptions" and reports that people he wanted to meet were "heavily surveilled, warned, intimidated, harassed or prevented from travelling by the police". He and his interlocuters were closely monitored by "undeclared security or police agents", and privacy of meetings was undermined. In his report, the UN Special Rapporteur said he was "outraged" by these incidents, as well as the "intimidation, police interrogations and even physical injuries of some of his interlocutors during and after his visit", which were "in clear violation of the terms of reference of country visits that had been agreed upon by the Government prior to the visit".
Following an analysis of the legal framework, the UN Special Rapporteur observed that the 2013 Vietnamese Constitution, the Ordinance on Belief and Religion (Ordinance 21), Decree 92 contained restrictive provisions that are far broader than limitation clauses stipulated in Article 18 (paragraph 3) of the UN International Covenant on Civil and Political Rights. Moreover, many articles in the Criminal Code condition the exercise of freedom of religion or belief on "the interests of the State" – and are routinely invoked to arrest and prosecute religious followers. Article 258 on "abusing democratic freedoms to encroach on the interests of the State", he noted, "gives the relevant authorities carte-blanche to sanction people for all sorts of activities", including the exercise of the right to freedom of religion, expression, association and assembly.
On the issue of registration, regulated under Ordinance 21, which determines whether religious organizations are "recognized" or "unrecognized" by the State, Mr. Bielefeldt stated that the right to freedom of religion or belief is a universal right, one which "cannot be made dependent on any specific act of administrative recignition, allowance or approval":
"It should be clear that the right of an individual or group to their freedom of religion or belief can never be "created" by any administrative procedures. Rather, it is the other way around: registration should serve this human right, which itself must be respected as preceding any registration. On the basis of this general understanding, registration should be an offer by the State but not a compulsory legal requirement" (Paragraph 32).
The UN Special Rapporteur raised the case of the Unified Buddhist Church of Vietnam (UBCV) and other "unrecognized" groups. In his report (paragraph 43), he noted the "remarkably dismissive attitude" of members of the State-sanctioned Vietnam Buddhist Sangha towards independent Buddhist groups which do not conform with "majority interests". Mr. Bielefeldt stressed that freedom of religion or belief is the right of all human beings, regardless of whether they follow a majority religion, a minority community or no religious community at all.
During his visit to Vietnam, Mr. Bielefeldt was able to meet UBCV leader Thich Quang Do, Buddhist Youth leader Le Cong Cau and UBCV Deputy Thich Nhu Dat at the Thanh Minh Zen Monastery in Ho Chi Minh City (Saigon). He cites serious allegations of religious freedom violations against the UBCV, including police surveillance, arbitrary arrest and detention, house arrest and confiscation of property.
In his conclusions and recommendations, Mr. Bielefeldt made 20 specific recommendations to Vietnam and four to the international community. These included urging Vietnam to:
broaden and solidify the very limited and unsafe space provided for the free unfolding of religious diversity in Viet Nam;
remove or replace vague articles in the Criminal Code that limit freedom of religion or belief, such as Article 258;
clarify that the official registration of religious communities is an offer rather than a legal requirement;
ease restrictions on religious communities under Ordinance 21 and Decree 92;
remove special public security units such as Unit 41/ PA 38;
provide fair and accurate information on religions as part of state education;
ensure the right of prison inmates to exercise their beliefs in detention etc.
Mr. Bielefeldt also called for a follow-up visit to Vietnam to assess whether his recommendations had been implemented.
After the UN Special Rapporteur on Freedom of Religion or Belief finished his presentation on Tuesday, the delegation from Vietnam took the floor. They denied that there had been any "obstructions" to the UN Special Rapporteur's visit in July 2014, deplored that he had referred to "inaccurate" information regarding religious freedom violations in Vietnam, and had "failed to depict a balanced panorama of the religious and belief situation in Vietnam". Vietnam concluded that it could not support Mr. Bielefeldt's report.
Report-on-Vietnam_A_HRC_28_66_Add.2_E-1